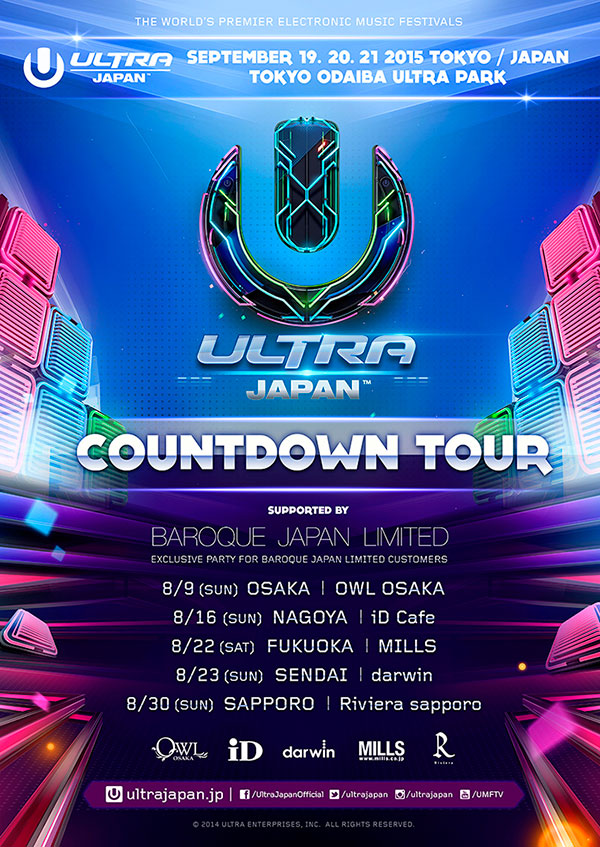 With the theme of FASHION × MUSIC × LIFESTYLE,
ULTRA JAPAN & BAROQUE JAPAN LIMITED will be holding countdown events in 5 cities in Japan.
Countdown tour will be held in Osaka on 9 August 2015, and then in Nagoya, Fukuoka, Sendai, Sapporo.
BAROQUE JAPAN LIMITED will support the countdown events towards ULTRA JAPAN 2015 at TOKYO ODAIBA ULTRA PARK (Odaiba Ultra Japan Park) from 19 to 21 September 2015.
During the below period, customers who purchase from the selected brands of BAROQUE JAPAN LIMITED will receive an invitation ticket for "Exclusive Party for BAROQUE JAPAN LIMITED CUSTOMERS"
Invitation card distribution period: 24 July to 31 August 2015
【ULTRA JAPAN 2015 COUNTDOWN TOUR SCHEDULE】
・9 August (Sun) Osaka OWL
・16 August (Sun) Nagoya iD Cafe
・22 August (Sat) Fukuoka MILLS
・23 August (Sun) Sendai darwin
・30 August (Sun) Sapporo RIVIERA
【Selected brands】
・AZUL by moussy
・MOUSSY
・RODEO CROWNS
・rienda
・SLY
・Lilidia
・SHEL'TTER
・Avan Lily
・STACCATO
・BLACK BY MOUSSY
・PEGGY LANA
Exclusive Party for BAROQUE JAPAN LIMITED CUSTOMERS
※Invitation tickets are on first-come-first-served basis
※Exclusive for certain selected stores
※1 ticket allows 2 guests to enter
※Only for those above 20-year-old
※Beverage and food are not included
※Invitation ticket can only be used in the COUNTDOWN TOUR
※Invitation ticket cannot enter ULTRA JAPAN 2015
◼ULTRA JAPAN COUNTDOWN TOUR SPONSOR: BAROQUE JAPAN LIMITED