Baroque launched the long awaited app for its customer loyalty program 「SHEL'TTER PASS」on Octorber 3rd. Customers can now shop at stores and EC to accumulate the "mileage" which they can rebate.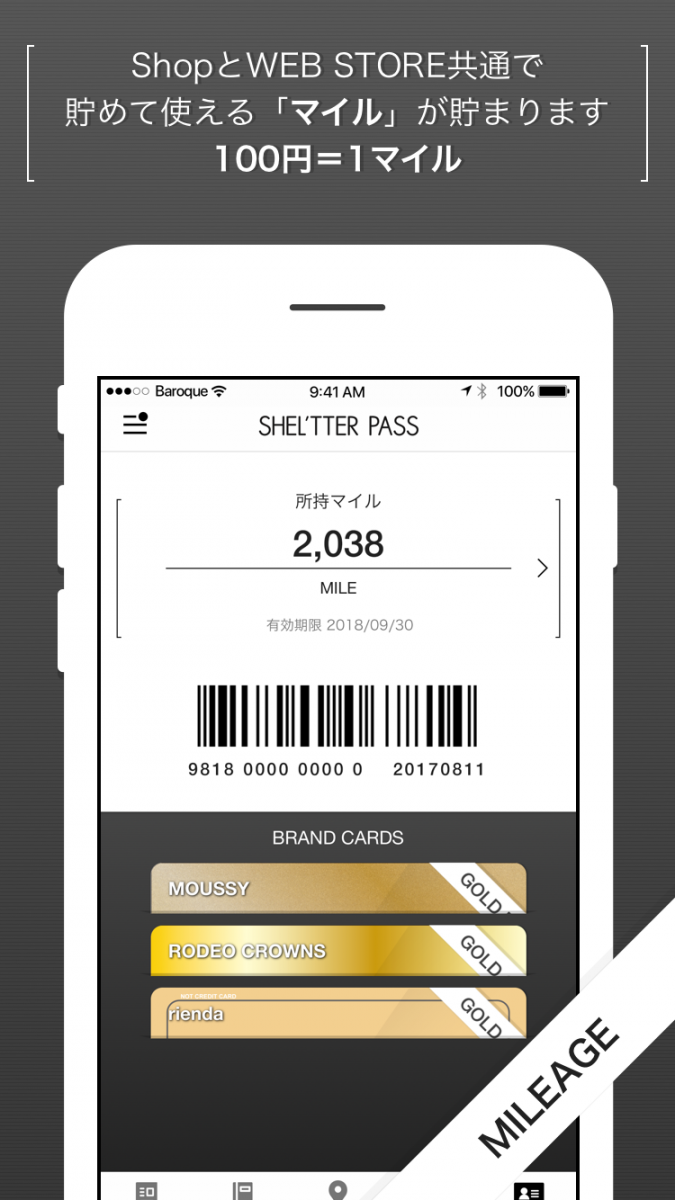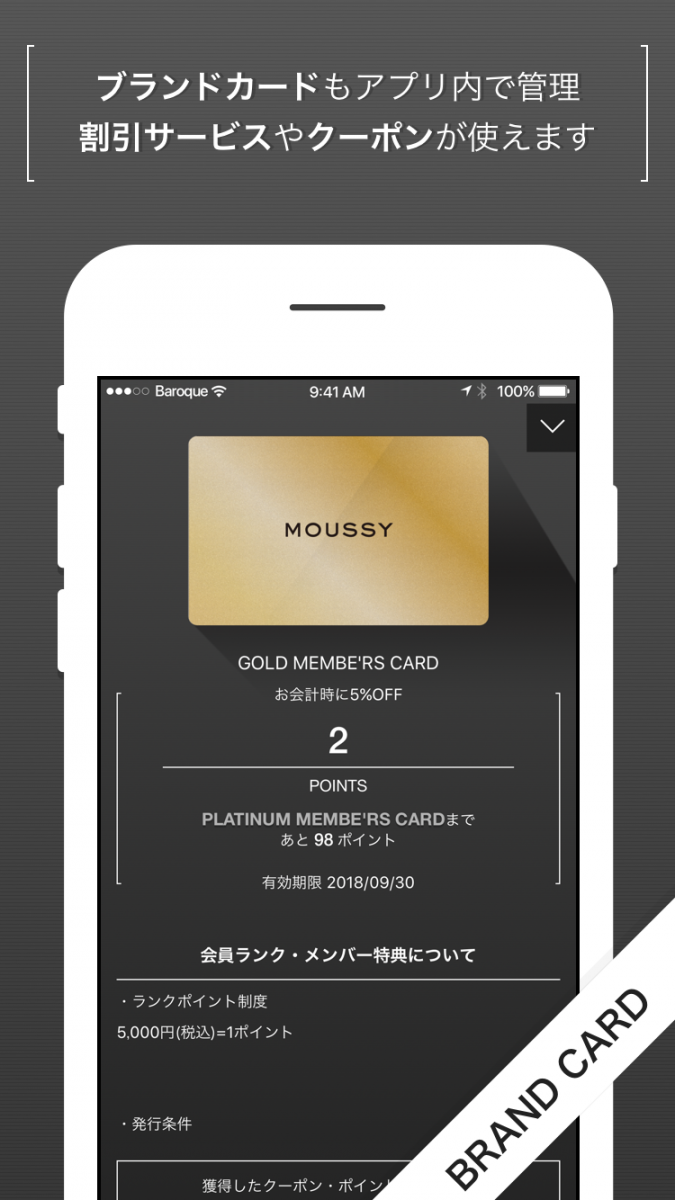 ① What is「SHEL'TTER PASS」APP? 
 「SHEL'TTER PASS」aims to strenghten the relationship between custoers and brands.
■ Accumulate the mileage
- Customer can get 1 mile per JPY100 (excl tax) purchase at brands operated by Baroque (certain brands are excluded) both at the stores and EC sites 「SHEL'TTER WEB STORE」 and 「AZUL BY MOUSSY WEB STORE」.
■Use the mileage
- Customers can use 1 milesage as JPY1 at the stores and the ECs.
※ Brands which customers can use SHEL'TTER PASS
MOUSSY / BLACK BY MOUSSY / AZUL BY MOUSSY
SLY / RIM.ARK / Rodeo Crowns / RODEO CROWNS WIDE BOWL/rienda / Avan Lily / PEGGY LANA / SHEL'TTER (few stores are excluded)
■Manage each brand's members card
- Customers can manage each brands members card/stamp cards with 「SHEL'TTER PASS」
■ Receive the hottest news/campaign information
■ Applicable OS
・ iOS 9.0 and above、Android OS 5.0 and above.
② Launching Campaign
To celebrate its launch, beow campaigns are schedueld till November 14th (Tue)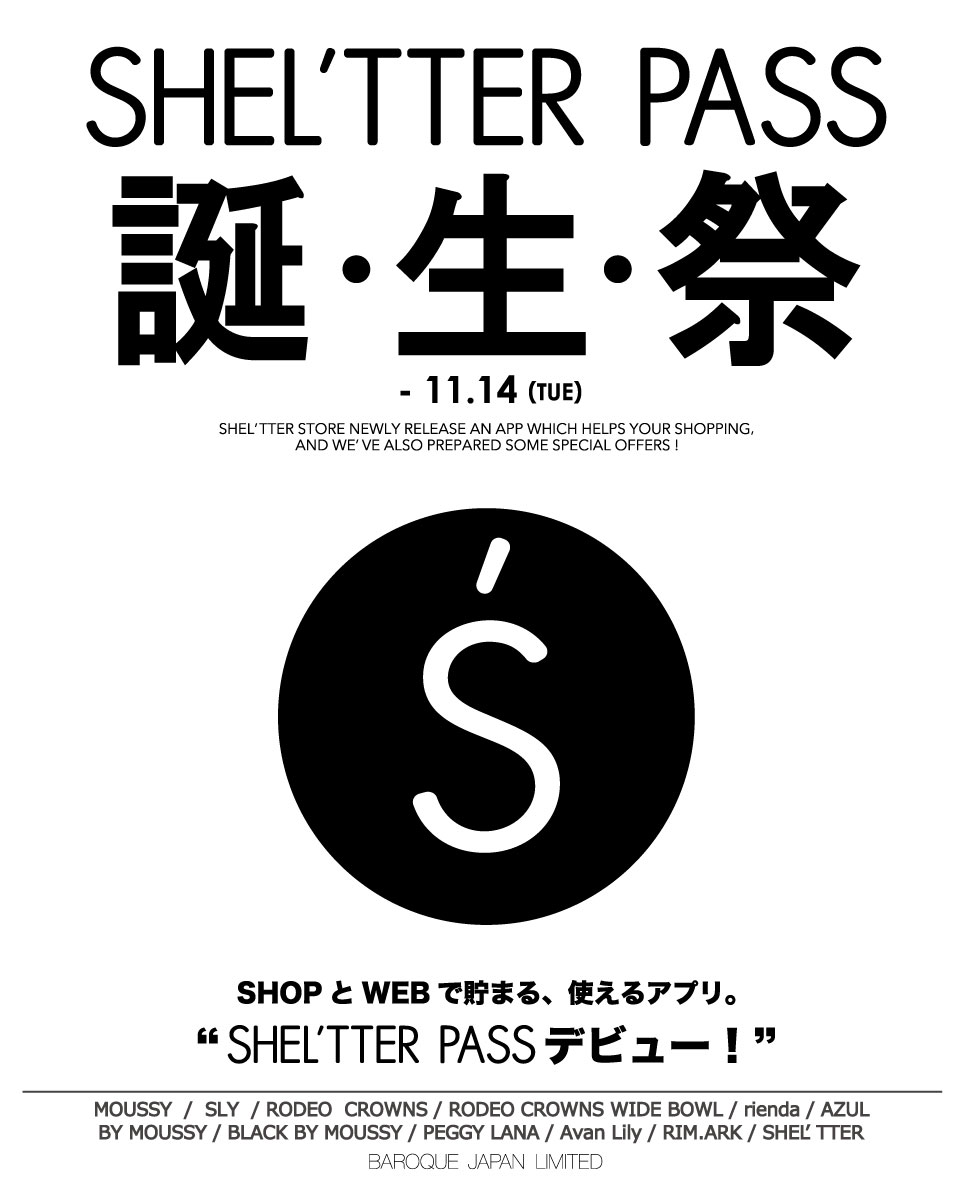 ■ Friends Campaign (Till October 31 2017)
- Get JPY1,000 coupon after download and register
- Get another JPY1,000 coupon after referring to friends and he/she registered (max 10ppl)
■ Raffle Campaign
・ Get a chance for raffle when shopping between November 1st to 14th using 「SHEL'TTER PASS」(Detail to be annouced by the end of Octber 2017)
参考URL
AppStore
https://itunes.apple.com/jp/app/id1256254285?ls=1&mt=8
Google PlayTM
https://play.google.com/store/apps/details?id=com.baroque_global.baroquepassport
detail for app
https://www.ec-store.net/special/event/171001pass/index.html
Friends Campaign
https://www.ec-store.net/special/event/171001app/index.html
【General Inquiry 】
Call Center
TEL : 03-6730-9191
Weekdays 10:00-18:00 (except holidays)